Infinity Software Solutions, Inc.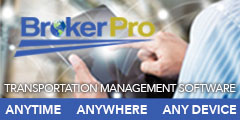 Infinity Software Solutions, Inc.
1629 4th Ave.
Suite 121
Decatur, AL 35601
United States

Company Description:
BrokerPro is our around-the-clock, easy access, and online transportation software. If the goal is to grow your brokerage, provide your brokers the productivity tools to do a great job more efficiently or even enhance the value of your business, then you are at the right place.
Any Time, Any Where, Any Device. BrokerPro is accessible and ready to go
· Personal Customer Support
· Manage Shippers, Contacts, Locations, Credit Limits, Insurance Requirements, Invoicing, Receipts
· Manage Carriers, Contacts, Contracts, Insurance, Authority, Equipment, Performance reporting, Settlements
· Set Pay Terms and Discounts
· Status Emails
· Agent Commissions and Reports
· Dashboard
· Sales Reports
· IPS- Post to virtually every load board known to man!
· RQS- Submit Quotes, Post Quotes, Copy and Convert to Loads
· Document Mgmt.- Go paperless, All formats supported
· LTL- Multiple Invoices on one load
· PC Miler Interface option
BrokerPlus: Our flagship freight broker software is a comprehensive software solution that is a "desktop" software installed on your local Server or network. Dispatchers can build loads in less than a minute from the "Load Detail" screen. Everything the broker needs to build a load, assign a carrier and send a rate confirmation is right at their fingertips. Rate Proposals, Status emails, invoicing and settlements are all included in one low price!
BrokerFax: The BrokerFax module works alongside BrokerPlus and is intuitive as well as simple to use. With one click, you can view carrier insurance certificates or retrieve contracts. Carrier fax numbers are automatically entered through integration with BrokerPlus, allowing you to manage all your documentation electronically. Plus, your coversheet can be customized with your company logo and other miscellaneous documents manually scanned and stored digitally.
BrokerLite: A simple dispatch software designed to increase workforce efficiency for startups, agents and shippers alike. BrokerLite is perfect for truck brokers looking for an economical solution that doesn't require accounting but offers an export of A/R and A/P along with customer and carrier data to QuickBooks Pro. Custom integration is also available to other third-party accounting packages. Shippers prefer BrokerLite for its ability to manage their carrier database, insurance expirations, and authority as well as sending rate confirmations.
Services:
Carrier Management/Monitoring
Computer Systems/Hardware
Freight Matching/Auction
Freight/Logistics/Transportation Management Software
Motor Carrier
Search http://www.BrokerPro.com