Stillwater Capital Corporation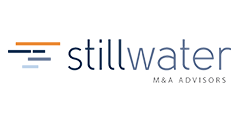 Stillwater Capital Corporation
Douglas Nix
Chairman and T&L Group Leader
2010 Winston Park Drive
Suite 401
Oakville, ON L6H 5R7
Canada

Company Description:
Stillwater Capital Corporation is one of North America's leading mid-market M&A Advisors. Since 2001, we have completed over 100 transactions, with extensive industry experience in Transportation & Logistics, Industrials, and Distribution.

Stillwater's mission is simple - to provide clients with the unparalleled market knowledge, experience, and industry-leading network access required to deliver in-depth insight and ideas that will ultimately close high-quality deals. We are passionate about building outstanding companies through acquisitions and equally passionate about exceptional results for clients who decide to divest some or all of their business.

Rooted in fairness, intellectual rigour, and compassion for people, we hold ourselves to a higher standard of ethics. We help our clients achieve superior outcomes by providing thoughtful, caring advice while acting with honour and integrity.

While we serve clients across Canada and the USA, over 30% of our transactions involve an international counterparty. As members of the world's premier professional advisory group, Geneva Capital Group, with over 26,000 of the world's best legal, accounting and M&A professionals in our group, located in over 750 offices in over 120 countries, we bring unequaled perspective and insights to every client we serve.

Service Overview

Divestitures

For most business owners a sale, merger, or recapitalization is unfamiliar territory. Our track record includes a 95% success rate, with 82% closing above initial valuations and an average timeframe of 6.5 months. Our extensive reach and proprietary sale process mean we can search for the ideal financial and strategic buyers to achieve the very best terms. We do this while maintaining confidentiality and minimizing disruption to your business.

In-depth financial and strategic analysis, identification of optimal partners, developing deal structures, and negotiating complex transaction terms is what you can expect. Working directly with you, we prepare the business for the sale and advise on the appropriate process.

Mergers and Acquisitions

We work with clients poised for growth to develop an exceptional acquisition strategy; identify multiple targets, focusing on companies not currently for sale; screen and approach targets; and negotiate complex deal terms. We arrange acquisition financing when needed, structure the transaction, negotiate terms, and coordinate due diligence. In short, we don't stop until the deal is closed.

Financing

Financing growth is vital to business growth. We help you understand what you need, what's possible, and how to get it at the best value. Free from the conflicts of interest inherent to many large financial institutions, we deliver unbiased guidance. This independence from investment, accounting, and lending affiliates enable us to promote healthy competition among lending sources, which translates to better value for you.

Whether it's corporate financing or equity and debt financing, our exceptional experience and knowledge, along with strong, established funder/investor relationships, mean we secure the capital you need.

Advisory

Independent advice and intellectual rigour in your corner; when you need clear thinking, experience, and a specific M&A execution to work through an unsolicited approach, a growth strategy, or a divestiture plan, we're there. Stillwater brings innovative, objective, and timely advice on all phases of complex transactions, along with the people, resources, support, clarity, wisdom, and judgment you need to guide and protect you, your team, and your organization.

Valuation

An accurate market value for your business is critical to anchor your growth. Our valuation professionals combine a powerful assortment of analytical tools, up-to-date market data, and real-world experience to accurately determine your company's value in today's marketplace. Our ability to understand and objectively determine the value of a company has been the cornerstone of our services and our core expertise since Stillwater's founding.
Services:
Consulting
Merger & Acquisition
Search http://stillwatercapital.ca