EKA Solutions, Inc.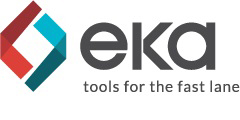 EKA Solutions, Inc.
2110 K Street
Sacramento, CA 95816
United States

Highlight Description:
EKA is founded by people who don't view the Transportation and Logistics Industry as just a job - for them it's a way of life. And they know it's your life too, so EKA helps customers discover and capture their untapped potential in the supply chain world by using its unified EKA Omni-TMSTM Transportation Management Platform.
EKA Omni-TMS TM enables any trading partner – Broker, Carrier or Shipper – to operate its entire freight transportation business on one cloud-based platform by embedding completely new operational paradigms. This SaaS based "digital transformation" leads to unprecedented improvements in revenue, costs and customer service.
Extended Description:
One key distinguishing feature of EKA Omni-TMSTM is "TMS Unification" that enables any trading partner – Broker, Carrier or Shipper – to operate its entire freight transportation business on this cloud-based SaaS platform.
Every EKA Omni-TMSTM Solution Includes:
- Smart decision-making tools & methods
- Powered by RouteSolvTM, VisibilitySolvTM, PriceSolvTM, and TeamSolvTM
- End-to-end visibility (with VisibilitySolvTM)
- Friction-free connectivity between trading partners
- Event management, notifications
- Real-time load movement tracking (with VisibilitySolvTM)
- Flexible Route configuration capability (RouteSolvTM)
- Collaborative team work capabilities (TeamSolvTM)
- Integration with logistics information services
- Smart price negotiation tools (with PriceSolvTM)
- Carrier Payments, driver payroll and billing
- Integrated Operating and Financial Accounting System
- Business intelligence tools including management and operational reports
- Powered by BrokerLyticsTM, CarrierLyticsTM, and ShipperLyticsTM
- Intuitive interfaces for easy implementation and faster ROI
- Highly competitive system operating costs
- Automatic & secure cloud backups
- Excellent business and operations support
- Multi-device support
These real-time tools and methods will lead to substantial improvements in revenue and customer service, as well as unprecedented reductions in systems and operations costs. For a full list of features included in the EKA Omni-TMSTM, visit our website or contact us to schedule a demo.
We understand that every business is unique, and that even the slightest disruption in service is unacceptable. EKA's experienced consulting team is ready to help your company's digital transformation. We offer:
Implementation Services
EKA Implementation Services help by providing expert assistance to develop implementation plans and to migrate your company to EKA Omni-TMSTM Platform
Development Services
Customer may contract with EKA to provide Development Services involving the modification or addition of functionality or other programmatic elements to EKA Omni-TMSTM Platform.
Advisory Services
EKA Advisory Team is highly experienced in transportation, Logistics and supply chain strategies and business functions, and we know how technology can help customers improve their profitability.
Services:
- Cloud Based Freight/Supply Chain/Logistics/Transportation Management Software
- Logistics/Transportation Management SaaS Solutions
- Implementation, Development, and Advisory Consulting for EKA Omni-TMSTM
Services:
Freight/Logistics/Transportation Management Software
Brokerage
Carrier
Domestic Freight Forwarder
Freight Bill Audit/Payment
Less than Truckload
Logistics/Transportation Management
Truckload
Search http://www.go-eka.com